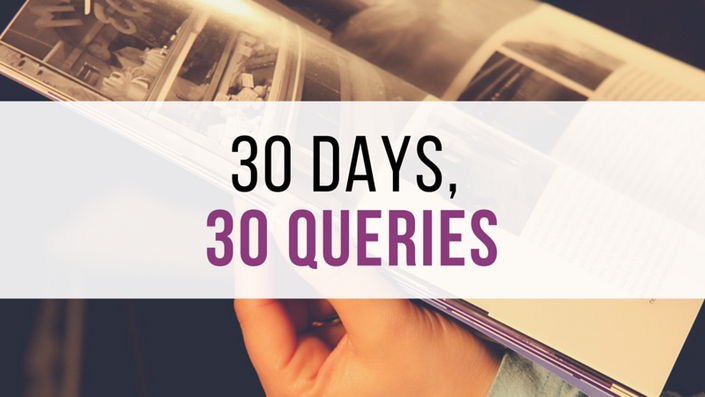 30 Days, 30 Queries
How to break into top publications with a marketing strategy that works
When I first started writing, I had a huge list of publications that I aspired to write for. These were the magazines and newspapers that inspired me when I felt down and defeated. I'd read through the pages, I'd sit with a cup of tea in my hand and spend hours looking through their websites. I'd come up with dozens of ideas and pitch, pitch, pitch the hell out of them. I wrote for some, not for others.
As I became more successful and, as a result, more and more busy with work, those magazine dreams just kind of faded away. I had credentials now, so I didn't need to chase these publications like I had when I was new. And I was always so busy writing for my existing clients that pitching to new markets, especially hard-to-break-into ones like The New Yorker or National Geographic, just never made it on my list of things to do. Pitch The New Yorker and wait a year for the rejection or e-mail my editor at a trade magazine and get a quick assignment and nice paycheck within the month? I chose the latter option because hey, this is my profession and I've got to make money at it.
But it's also my dream.
That's how my personal 30 Days, 30 Queries challenge began last year and the results were spectacular.
I bagged, in total, four new clients of the 30 I'd pitched. Two of them were $1 a word markets that have become regulars and gave me $5,000+ of work in the last quarter of 2013 alone. Editors from six others, including publications like Wired, Parents, and O, the Oprah magazine, got back to me asking that I continue sending more ideas and now I have a running dialogue with them. And eight others sent me personal rejections (which I took as a sign that the door is open for me to send more pitches their way.)
Now I'm ready to help you achieve the same results and that's why I've decided to launch the 30 Days, 30 Queries e-course.
Here's what you get when you take the e-course:
---
1. 30 lessons, delivered to your e-mail daily, that will show you in a step by step fashion how to send 30 query letters in a month. I'll also share tips with you on the best ways to write effective pitches that get more assignments and more money.
---
2. Lifetime access to the 30 Days, 30 Queries Facebook group that will consist of all participants—current and former—of this e-course. This will be the hub where you can interact with all the other writers who are taking this challenge to get support, cheer each other on, and share goals. I pop in occasionally as well to answer questions and help you navigate through the challenge.
---
3. Dozens of sample query letters, a list of high-paying markets, and links to resources that will make your marketing streamlined and simple.
---
Where most writers will fall down when it comes to pitching is this: They don't pitch enough and they don't pitch effectively. In this course, I'm going to teach you to do both and I'm going to provide you with the support, motivation, and kicks up the ass that force you to get up, take action, and work with the numbers that produce real results.
Students of the course have received acceptances from The New York Times, The Wall Street Journal, LA Times, Marie Claire, National Geographic Traveler, Discover, The Guardian, Afar, GlobalPost, Vice.com, BBC, and CNN Travel.
Your Instructor
Mridu Khullar Relph has written for publications in over 20 countries, including TIME, The New York Times, CNN, Parade.com, ABC News (Australia), PsychologyToday.com, The Christian Science Monitor, The International Herald Tribune, Global Post and The Independent (UK). I'm a contributing editor at Elle magazine's Indian edition and have been published in women's magazines around the world, including several foreign editions of Cosmopolian, Glamour, Vogue, Self, Marie Claire, and Ms. I have written for both The Writer and Writer's Digest.
She's been a contributor to books The Lonely Planet Travel Anthology: True stories from the world's best writers, Breaking Out: How to Build Influence in a World of Competing Ideas, Chicken Soup for the Pre-Teen Soul II, and Voices of Alcoholism.
She has lived and worked out of Asia, Africa, Europe, and North America and have won two awards for her work, including the 2010 "Development Journalist of the Year" award from the Developing Asia Journalism Awards forum.
Course Curriculum
Day 1
Available in days
days after you enroll
Day 2
Available in days
days after you enroll
Day 3
Available in days
days after you enroll
Frequently Asked Questions
When does the course start and finish?
The course starts now and never ends! It is a completely self-paced online course - you decide when you start and when you finish.
How long do I have access to the course?
How does lifetime access sound? After enrolling, you have unlimited access to this course for as long as you like - across any and all devices you own.
What if I am unhappy with the course?
We would never want you to be unhappy! If you are unsatisfied with your purchase, contact us in the first 30 days and we will give you a full refund.
TESTIMONIALS
Just a note to say thank you for 30 Days, 30 Queries. Thanks to the course, I am living my dream of being a magazine writer, including writing for a publication that I've wanted to write for ever since I decided, age 16, 'I'm going to be a writer.'
Within 10 days of starting the course I secured two assignments, together worth over $1,800. Those alone paid back the cost of the course many times over.
– David Masters
---
Though I hesitated joining the private Facebook group, I figured it might end up just wasting time, I found it so be fantastic. I learned so much from other members and was amazed at how generous they were in sharing story ideas and names of editors. In free forums I usually see people with a "scarcity mentality," not with this group of writers! Mridu was active in the group and gave me the perfect line to use to painlessly ask the editor about what she's paying for the article. I've always been sacred to do this, twice accepting assignments without knowing the pay until the story was done and they put the money in my PayPal account! I'll be reading these lessons again and again in the coming year!
– Charlotte Edwards
---
For anyone wanting to live and work as a freelance writer, this woman—Mridu Khullar Relph—is seriously damn helpful. Since I did her course last year I've written for Aeon, Discover, BBC Wildlife (and was interviewed by NPR in the US) and am now working on stories for Wired, GOOD and (maybe) Marie Claire. It's full-on and intense and she takes no shit—nor excuses!! But it works…
– Karen Emslie
---
I absolutely loved this course and felt like it was the best course I've ever taken. You were so generous with the knowledge and insight you shared. I hear that so many writers do copywriting, blogging, content writing, etc. to add to their income. I really want to focus on writing for magazines and this course has made me believe I can do that.
– Pam Windsor
---
Mridu, you met my expectations by about Day 9 and since then I'm thinking that either you're a disciple of the under-promise, over-deliver philosophical approach, or you've seriously under-priced this course! Immensely valuable, and you continue to add, add, add. Can't imagine you've left any aspect of the process untouched, and will be referring to this material for a long time as I grow my article writing efforts. I will unhesitatingly recommend this course to writer friends interested in the subject.
– Gary Varner
---
Mridu's 30 Days, 30 Queries course has been inspiring, encouraging and very helpful. As always, Mridu has been very generous with sharing her experiences and information and I'm confident that the lessons learned here will help me market my ideas more consistently in the near future. I highly recommend this course to freelancers, both new and experienced, who want more (and better) work.
– Chryselle D'Silva Dias
---
Not only do you get lessons that help you zero in on your weak spots, you get support from Mridu herself, fellow classmates and lifetime access to the 30 Days, 30 Queries Facebook page. Mridu, you rock and even though I didn't make the goals for the class, I am able to pinpoint where I need to improve and I am thankful that you took the time to answer my emails and for allowing us all to connect via the FB page. If you ever do follow up (or other courses), I'm in!!!
– Anne Forline
---
I love how you really forced us to think like the editor in many of the lessons– I think that, more than anything, is key to creating a successful query.
– Suchi Rudra
---
I can't thank you enough for this course. It was the kick up the bum that I so badly needed to get writing again. It must have taken you ages to put it all together and it was hugely appreciated. A big thank you!
– Frances Cave
---
The course was excellent… Your encouragement and practical advice are so valuable. Setting up the closed Facebook page was a great idea. Thank you so much! I look forward to putting all the great information to good use. And taking more of your e-courses!
– Maureen O'Grady
---
Such a great course, I simply loved it! Great structure from Day 1, very handy and useful tips, constant motivation and a great Facebook group of fellow participants with invaluable interaction! Woke up every day of this month looking forward to reading our next e-lesson and get going with my pitches. It was just what I needed to build confidence and integrate marketing more actively in my everyday routine.
– Rania Margari

---
This course is closed for enrollment.