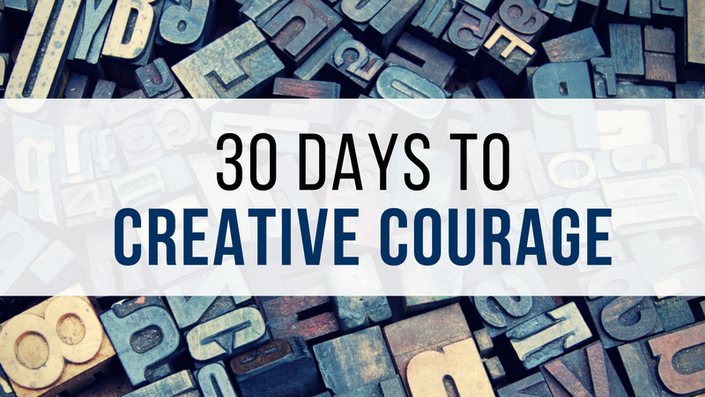 30 Days to Creative Courage
A mind that is trapped cannot create art. Let me show you how to free it
Watch Promo
You want to create fearlessly every day.
You want to be bold, speak your truth, tell your stories.
You want to write. You want to publish. You want to speak.
But there are things that hold you back. Call it what you want, the fear expresses itself in many forms: Resistance, self-doubt, perfectionism, thin skin, procrastination, writer's block, and so on. And if you let it, this fear will stop you in your tracks and prevent you from creating.
There is only one way to overcome this fear and to live the true life of an artist, and this is to find creative courage.
Here's how.
Do you want to create routinely in spite of your fear?
Let me tell you something about myself.
I am a person who gets knocked down, gets up, gets knocked down again, gets up, gets knocked down again, gets up, and repeatedly just keeps getting up because staying knocked down just isn't something she knows how to do.
I get up because it is who I am. It is a part of my identity. I am someone who does not give up. I am someone who says, "Is that all you've got? Give me all you have because I may be down now but when I get up, my sheer power and force will blind you."
THAT is who I am.
I am someone who has learned how to find my creative courage.
I am the person who keeps going when everyone else has given up. I am the person who keeps believing when everyone else thinks belief is stupid. I am the person who will go to great lengths and take immense personal risks to follow her heart again and again not because it is the sane thing to do, but because it is who I am. I am someone who follows her heart. Someone who fights for her beliefs. Someone who believes in herself when everyone else has stopped believing. Someone who has an unshakeable vision for her life, one she will keep walking towards for all of her days.
Standing up, continuing to fight, that is a natural instinct. It is who we are.
Is that not the true test of a dream, after all? If you quit when things get hard, if you quit when you just don't want to and can't be bothered, if you quit in the face of relentless failure and rejection, if you quit when it seems unlikely to ever work out, if you quit then, was it really a dream to begin with? Did you truly believe it the way you said you did?
No, when faced with pressure, with rejection, with defeat, you must come back harder, stronger, with all the intensity that you can. You must roll up your sleeves and say, "Give me all you've got because I'm ready. I'm meant to live my dreams and one small failure is not the thing that holds me back from that."
Because that is who I am. I am relentlessly optimistic. I am relentless in my beliefs and I am relentless in my efforts. And that is who you must be.
Half-arsed in not an option in our world. Dreams are not achieved with half-arsed efforts.
Giving up can never be an option. Doing the work is the option no matter how difficult that work is and no matter how long it takes. Because your commitment isn't "I'll do it for as long as it's easy," your commitment was, "I'll do whatever it takes." And what it takes is absolute and utter belief in yourself, it takes every ounce of self-belief you have, it takes a commitment to staying focused, to know that whatever you don't know, you can learn. It takes patience, more than you think you have to give. It takes faith. It takes confidence.
None of these things come easy but that was not the promise. Easy is never the promise in art. You were never promised easy. You were never promised anything. It is your choice to do this. And you must do it. And you must not stop.
Because it's not a question, it's a choice. It's not will I or won't I?
You will because you've already decided you will.
Welcome to 30 DAYS TO CREATIVE COURAGE. In it, we'll talk about the many barriers that stand in the way of an artistic career: lack of money, lack of support, lack of belief in oneself, and all the things that make you feel trapped and stuck instead of in flow and creating. Lack of time, lack of motivation, lack of joy, lack of inspiration, lack, lack, so much lack.
In this course, we're going to focus not on lack, but on abundance. How to create abundance in your life—of time, of joy, of space, of creative work. We'll talk about writing and releasing, forming habits, and overcoming blocks, but more than that, we'll talk about becoming comfortable with yourself, with who you are, and with whatever stage you're at in your creative career.
A mind that is trapped cannot create art and that is what I want to teach you to overcome.
This course will help free your mind and give you permission to finally go create without attaching so much stress and negativity to it. You deserve the gift of creative freedom. As a writer, that is the one thing you cannot afford to lose. And that is what I will teach you how to do.
I'll show you how to find that freedom, but also how to protect it, how to fight for it, and how to nurture it. You cannot allow yourself to go down rabbit holes of negativity, allow others to influence who you are and how you work, and most of all, you cannot allow defeat to take over.
This course will show you how to stand up for yourself and keep on standing up even when you're being beaten down.
I want you to find your creative courage. In 30 days.
As part of the course material you get:
- 30 Daily Videos
- 30 Daily Challenges
The videos will provide insight and inspiration and the the videos will shove you out of your comfort zone and help you build courage and confidence in your work and yourself.
I feel like every single one of you should take this course. And so, even though the price will go up eventually, for now it is my lowest-priced course and a fantastic deal.
The course will be open to take any time, but the first group will start on January 1, 2017 and if you're looking for creative courage, what better time to start than in the New Year?
If you've been struggling to create, feeling the joy seep out of your writing, and finding it just too much pressure to create when you don't know how, you need to sign up for this. It will give you the tools you need to find joy in your creativity and start making it fun again.
Because that's why you're doing it right?
Your Instructor
Mridu Khullar Relph has written for publications in over 20 countries, including TIME, The New York Times, CNN, Parade.com, ABC News (Australia), PsychologyToday.com, The Christian Science Monitor, The International Herald Tribune, Global Post and The Independent (UK). I'm a contributing editor at Elle magazine's Indian edition and have been published in women's magazines around the world, including several foreign editions of Cosmopolian, Glamour, Vogue, Self, Marie Claire, and Ms. I have written for both The Writer and Writer's Digest.
She's been a contributor to books The Lonely Planet Travel Anthology: True stories from the world's best writers, Breaking Out: How to Build Influence in a World of Competing Ideas, Chicken Soup for the Pre-Teen Soul II, and Voices of Alcoholism.
She has lived and worked out of Asia, Africa, Europe, and North America and have won two awards for her work, including the 2010 "Development Journalist of the Year" award from the Developing Asia Journalism Awards forum.
Is 30 Days to Creative Courage for you?

This course is designed for:

* New writers who are just beginning to learn how to write and want to be able to express themselves without fear.
* Professional freelancers and writers who want to add more creativity to their work and/or are struggling to keep creating because of the comments they receive online for their work.
* Any writer who is feeling blocked or overwhelmed by outside influences to the detriment of his/her creative work.
Course Curriculum
Day 1: Courage will change the way you create
Available in days
days after you enroll
Day 2: Courage is a muscle and this is how you build it
Available in days
days after you enroll
Day 3: Become comfortable with uncertainty and jump into action
Available in days
days after you enroll
Frequently Asked Questions
When does the course start and finish?
The course starts now and never ends! It is a completely self-paced online course - you decide when you start and when you finish.
How long do I have access to the course?
How does lifetime access sound? After enrolling, you have unlimited access to this course for as long as you like - across any and all devices you own.
What if I am unhappy with the course?
We would never want you to be unhappy! If you are unsatisfied with your purchase, contact us in the first 30 days and we will give you a full refund.
This course is closed for enrollment.