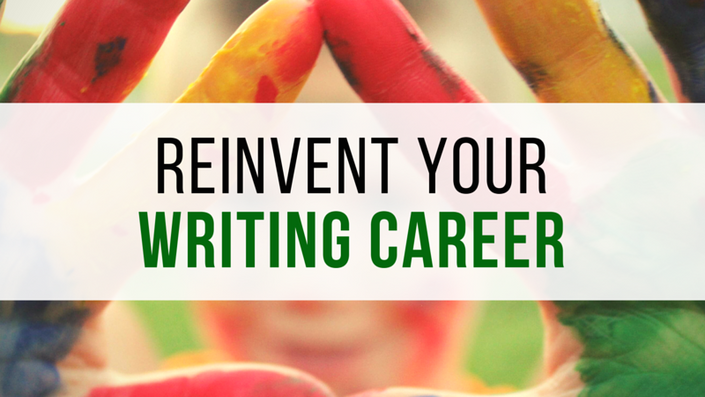 Reinvent Your Writing Career
Don't like what has become of your writing career? Let's fix it.
Ever woken up in the morning and said one of the following things to yourself?
"I don't get to write what I love because my day's taken up writing for pay."
or
"This isn't what I hoped my writing career would look like."
or
"I'm making good money with my writing, but I feel so overworked."
or
"At least I get to write for a living. That's something, right?"
Yes? Then you need to listen up.
Because I have good news and bad news.
The good news is that you're not alone. That thousands of writers, just like you, after decades of loving their freelancing or book-writing careers, are finding this new world of writing frustrating, challenging, and sometimes downright scary. They're falling out of love with their writing.
I know, because I was one of them.
After a decade of writing full-time and making great money at it, three years ago, I found myself waking up morning after morning questioning my writing career, questioning how I'd gotten so off track, and worse than all of that—not knowing how to make it something I could love again.
But here's where the bad news comes in: If you're like me, if you're like one of these writers who're feeling dissatisfied with your writing, if your writing life isn't exactly what you want it to be, then you need to change what you're doing right now or this writing career that you love? This career that that you dreamed would be the start of all things wonderful, that would allow you the freedom and the flexibility and the joy to create things that you love?
It's going to shrivel up and die. And it's going to burn you out, make you miserable, and force you to quit altogether.
Like I said, I know. I was there not too long ago.
And here's what I did: I became brutally honest with myself.
Writing dull and boring crap to make money was never my dream, and I can bet it was never yours. The dream was (and is) to work all day, every day, working on the things that you love, that fire you up, that make you happy, and that make you feel like you're contributing something to the world.
The dream was to do the work that matters. To you and to others.
And I was not getting to do any of those things. I told myself—like you probably do—that at least I was getting to write. At least I was making a living with it. At least I wasn't stuck in some corporate job doing a regular 9-5 and having no flexibility with my life.
I woke up every day, I wrote, I pitched, I did marketing and I liked some of those things but not others. At the end of the day, however, no matter how much I tried to convince myself, I felt like I'd just spent another day living some version of the dream I once had but not quite understanding why I wasn't getting there or what it would take to do so.
And yet, there was an annoying niggly voice in my heart that kept saying, There's more. There has to be more. Because this isn't what I wanted to do.
I had all the questions you probably do: Is it the crappy market with the low pay rates? Is it because it's too difficult or impractical to do the thing that brings me joy? Or is it because I'm so tired of writing article after article that I don't even know what I want any more?
Is it the market's fault? Is it my fault? Is it no one's fault?
Worse yet, is this the rest of my life? Is this it?
That idea, that this was the rest of my life, scared me. I'm a writer. There's nothing I'd rather do with my life than write. I love writing. I have never been anything in my life other than a writer. And if I couldn't love my writing any more, what did that mean? Who was I?
I had to get serious. I asked the difficult questions. And I answered with brutal honesty.
And so, I've spent the last three years experimenting, trying new things, falling flat on my face, getting up, trying again, working on the things I love bit by bit, letting go of the things that make money but bring me no joy, also bit by bit, and slowly transforming a writing career that I was beginning to hate into something that I now absolutely adore.
I wake up every day raring to go, to create, to put work out in the world that I can be proud of. And when my head hits the pillow at night, I'm happy. I got to do what I love.
In the last year alone, I finished my novel and found a kickass agent. I created The International Freelancer, a business that I find immensely fulfilling and joyful. I started writing personal essays again and immediately sold the first one I wrote to an upcoming Lonely Planet literary anthology. I self published a nonfiction book. I wrote two more.
I've had massive ups and massive downs, including financial, as I found my way through the maze in these last three years. And I'd like to share my journey—and my process—with you, so you can avoid the mistakes and the heartaches I made along the way and ask the difficult questions you need to now, before you become disillusioned, in order to create the life and career that you love. On your own terms.
If your writing career isn't what you'd once hoped what it would look like, it's time to reinvent it.
If you've lost your way, I can help you find it.
In this six-week audio program, we're going to talk about why your writing life isn't what you want it to be and how to bring passion and purpose back into your days. We'll talk about what your ideal writing life would look like and how to start creating that, not someday in the future, but today, right this very minute.
Every week, you will get one audio training lasting approximately one hour with worksheets to help you through the process. I'll be on hand to answer any questions that come up for you and any bottlenecks that you're working through.
I'm not promising that the change will be immediate. But loving your writing life and starting to create the ideal version of it doesn't have to be a process that takes months and years. You can start shaping your life today. Your decisions of today will impact how your life will look like in a year, in five years, and in ten.
Are you ready to make that change? To live the life that you want instead of the one everyone insists is necessary for success?
Then come join me in my quest to create happier writers and more fulfilling writing lives. Starting with you.
Let's reinvent your writing career and transform it into something you love.
Otherwise, what's the point?
Here's what the six audio trainings include:
Week 1: You got yourself here. Now get yourself out.
If you're going to live your life on your terms, then you need to first, as a very basic step, set those terms. In this training, we'll define what it means to be happy with your writing career. Then we'll talk about what you need to do differently to make changes and how you're to do it, given your constraints, your need to pay the bills, and the limited time in your day.
Week 2: Love? Money? Or both?
Look, let's all be very clear here: While it would be ideal that you simply quit the work you hate and start doing more of what you love, that's not practical or possible for most of us. So in this training I'm going to go over how exactly to create space for both love and money in your writing life and how to slowly transition into making the work you love pay. (And of course, how to keep your sanity in the meantime.)
Week 3: What does reinvention look like?
What would you do if money, time, and circumstances were not an issue? What would matter to you? What would you spend your entire day doing? In this training, we're going to create our perfect lives in our minds. We're going to talk about the things that you currently like about your career and what you don't. Then we're going to talk about some creative options that help you do more of the things that you like and fewer of those that you don't. We're going to talk about the various career paths, I'll throw out some ideas, and I'll show you how to think about your writing projects so that you can get closer to that ideal life that you've envisioned.
Week 4: Let's fix your writing life
What are the tools and strategies that you're going to need in order to start the process of working towards your dream life? In this training, we'll cover some of those. The thing that worked wonders for me? Becoming outcome focused. I'll show you how to do that and why it's so essential to your writing life and career.
Week 5: Doing it, living it, being it
It's all well and good to talk about a dream life, but we all know that there are things in life that need to be done and that we don't enjoy. In this training, I'm going to talk about structuring your day for maximum impact. This isn't about productivity—though we'll talk about that, too—but more about giving importance to the work that matters and giving it your attention. If your to-do list rules your life and comes first, your creative work comes second. Let's talk about how to make the love work, the creative work, come first.
Week 6: This is your new life
Wrapping it all up. All of what we've discussed won't happen in a single day. But you can start today, right now. As we wrap up the program in this training, I'll discuss what it means to live in alignment, how the goal posts are always shifting and how not to get distracted by that or fear that change. I'm also going to encourage you to trust your intuition and not worry about what the "experts" say and instead, focus on being true to who you are. The joy—and yes, the money—will follow.
Your Instructor
Mridu Khullar Relph has written for publications in over 20 countries, including TIME, The New York Times, CNN, Parade.com, ABC News (Australia), PsychologyToday.com, The Christian Science Monitor, The International Herald Tribune, Global Post and The Independent (UK). I'm a contributing editor at Elle magazine's Indian edition and have been published in women's magazines around the world, including several foreign editions of Cosmopolian, Glamour, Vogue, Self, Marie Claire, and Ms. I have written for both The Writer and Writer's Digest.
She's been a contributor to books The Lonely Planet Travel Anthology: True stories from the world's best writers, Breaking Out: How to Build Influence in a World of Competing Ideas, Chicken Soup for the Pre-Teen Soul II, and Voices of Alcoholism.
She has lived and worked out of Asia, Africa, Europe, and North America and have won two awards for her work, including the 2010 "Development Journalist of the Year" award from the Developing Asia Journalism Awards forum.
Course Curriculum
Week 1
Available in days
days after you enroll
Week 2
Available in days
days after you enroll
Week 3
Available in days
days after you enroll
Frequently Asked Questions
When does the course start and finish?
Once you enroll, you'll get access to one audio training per week along with worksheets. Once the course is finished, you'll have indefinite access to all the material that you can access any time.
How long do I have access to the course?
How does lifetime access sound? After enrolling, you have unlimited access to this course for as long as you like - across any and all devices you own.
What if I am unhappy with the course?
We would never want you to be unhappy! If you are unsatisfied with your purchase, contact us in the first 30 days and we will give you a full refund.
This course is closed for enrollment.